By Contributing Food Editor Jared Levan
Dear Meatballerz,
Winter is the best season to enjoy a nice juicy meatball and some delicious brussels sprouts. Unless of course you're a vegan (in which case avoid the meatballs). If I could eat brussels sprouts every day, I totally would. So I've put together these wonderful recipes for you to enjoy over the weekend. Or whenever you want. It's up to you!
Homemade Meatballs
Recipe created by Jared Levan
1 Lb. Ground beef tips
1 Clove fresh garlic, minced
1 Tbsp. fresh oregano, finely chopped
1 Tbsp. pork fat, rendered & chilled
1 Cup small bread cubes
1 Large egg
½ Cup half & half or whole milk
1 Tbsp olive oil
Sea salt
Fresh ground black pepper
Combine bread cubes and milk (or cream) in a small bowl and set aside, allowing the bread to absorb all liquid. In a separate large mixing bowl, combine ground beef, garlic, salt, pepper and oregano. Working with your hands, thoroughly mix all ingredients.
Add chilled pork fat, breaking into small pieces to incorporate. Add egg and mix until the mixture comes together. Add reserved soaked bread cubes and lightly mix with hands until just incorporated. Roll into 2-inch round meatballs (makes ~10).
Preheat oven to 400 degrees. Meanwhile, heat olive oil in medium frying pan and brown the sides of the meatballs over high heat. Transfer meatballs to oven and bake for 15-20 minutes.
Brussels Sprout Arrabiata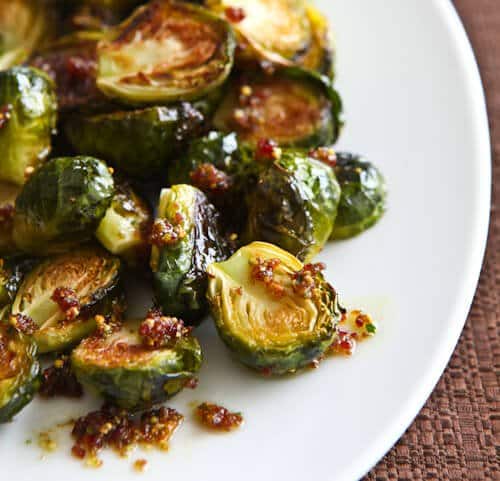 Recipe created by Jared Levan
1 Lb. fresh brussels sprouts, cleaned and sliced lengthwise
1 Can (28 oz.) whole peeled San Marzano tomatoes, chopped + juice
½ Medium Spanish (yellow) onion, chopped
2 Cloves garlic, minced
2 Tbsp. fresh oregano, finely chopped
1-2 Tbsp. tomato paste (not canned!)
1 Tbsp. anchovy paste or oil-packed anchovies, finely chopped
1 ½-3 Tbsp. red chili flakes
2 Tbsp. olive oil
3 Tbsp. balsamic vinegar
2 Tbsp. sugar
Sea salt
Fresh ground black pepper
Toss brussels sprouts and ½ of the olive oil in an oven-safe baking dish and place under hot broiler, tossing occasionally until lightly charred and crispy. Remove from oven and reserve.
Heat the remaining olive oil in a sauce pan over high heat. Saute onions until translucent. Add minced garlic and saute for 1 minute then add tomatoes and juice. Season with salt, pepper and chopped oregano. Reduce to medium-low heat and simmer for about 10 minutes, covered. Stir occasionally.
Add reserved sprouts, chili flakes, tomato paste, anchovy, balsamic vinegar and sugar. Stir and simmer for an additional 20-30 minutes on low heat, covered. Place into a serving bowl and serve warm.
Love,
Jared